Chassis Rear
The Chassis Rear product retains the shape of the
LCD (LED) TV screen panel, protects and supports
the liquid crystal display, main components, as well
as the entire rear section of the backlight unit, and
helps dissipate heat.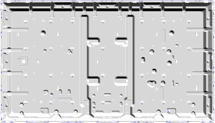 The Chassis Rear can be machined into different form factors
using a variety of processes. Key processes include Drawing & Embossing,
Notching & Embossing, Notching & Piercing, Chamfer & Hook,
Box bending & Burring, and Flating.